Knowledge Center
Ergonomics derives from two Greek words: ergon, meaning work, and nomoi, meaning natural laws, to create a word that means the science of work and a person's relationship to that work.
Ergonomics, also known as human factors, is the scientific discipline that seeks to understand and improve human interactions with products, equipment, environments and systems. Drawing upon human biology, psychology, engineering and design, ergonomics aims to develop and apply knowledge and techniques to optimise system performance, whilst protecting the health, safety and well-being of individuals involved. The attention of ergonomics extends across work, leisure and other aspects of our daily lives.
Being an ISO 9001product, Bluebell is recognised for quality management and is consistently satisfying its customers and stakeholders. With effective processes and effective team the company is delivering quality products and services time after time. The strong quality and durability of Bluebell products is the key to success. We at Bluebell have put the time and effort into making sure that our customers are and will be happy with our products and services. Switch to Bluebell chairs for the style and the swag you want. Stylize your home, work place, office or any commercial space with modish chairs and make it look beautiful. Redefine your spaces with designs as you want, and decor your dreams. Crafted with excellence, every chair is an art piece that amazes with its well-designed look. Design is not just how it looks like and feels like, design is how it works.
It's rightly said, design is so simple that's why it's so complicated. To create something extraordinary, your mind must be relentlessly focused on the smallest details. Artists are simple people with complex minds who make designs visual. Our team at Bluebell aims to offer customers with chairs that are affordable and accessible, without sacrificing the style or the quality. Quality control and assurance are the basic principles for us at each and every step of manufacturing. Bluebell provides you with all types of ergonomic chairs, engineered for postural equilibrium for supporting the user's natural body alignment to deliver comfort, enhance user's well-being, concentration and efficiency. With distinctive attributes like adjustable headrest, height, and armrests, an ergonomic chair will assist you gain the right support to sit for long durations without affecting your posture. The components used in our chairs have undergone stringent tests as per BIFMA and they conform to the same, hence delivering Quality and Safe Seating to the users.
ISO 14001 is the international standard for environmental management and is offered to the business houses or any industry sector for working in a specific framework and implementing relevant substantial practices. The ISO 14001 is a recognition given to companies for improving the environmental performance in the organization and for looking into the environmental aspects arising out of organizational operations.  Bluebell is one of those companies crowned with the same and we are looking into the environmental aspects while producing or manufacturing the products. Crafted with excellence, bluebell chairs delineate you and your luxury. We equip with simplicity and cosiness, your homes, office spaces, and workstations with the beautiful sitting creations called chairs. Transform the old era to modern designs with dignity. Needless to say chairs are no longer a privilege. They have become a necessity to improve the posture and take off the pressure from your neck, arms, shoulders and back. Shift to an ergonomic chair with lumbar support that will support your lower back so that you don't end up slouching.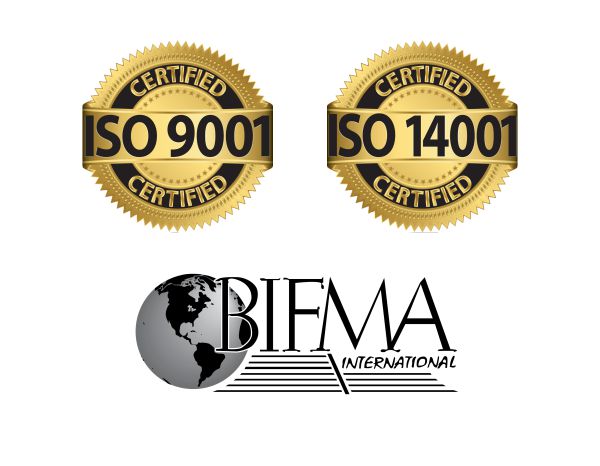 Where do you think, we spend most of our productive time? At home, traveling or at the workplace. Typically, the response will be a workspace. If you are working personnel, you are always stuck in the conventionally designed obsolete sitting spaces for long working hours. This leads to wrong sitting postures and ultimately back pains. Bluebell ergonomically designed chairs are an excellent option to make your productive time more effective and efficient without getting tired and exhausted. These thoughtfully crafted pieces of art are admirable illustrations of luxury, expediency, and resilience.
Benefits of Medback Chair
Bluebell med back ergonomic chair is the best option for supporting your lower back and mid-back. Its height is slightly lower than your shoulders; however, these chairs offer proper mobility in smaller spaces or structures. If you need to execute many errands and move back and forth, a med-back office chair is your best thing. It gives proper spinal support as well as comfort. A sophisticated mechanism built into with strong ergonomics gives a perfect reclining position, seat height, and arm positioning. So what are you thinking upon? Shift to Ergonomics, shift to Bluebell sitting arrangements for a comfortable posture.
What Makes Ergonomic The Best?
Ergonomically designed chairs are human-engineered and they ensure that they complement the strengths and abilities of people and minimize the effects of their limitations. Built for convenience ergonomics are designed for life. Can you imagine working 9 to 6 and having to sit on an uncomfortable chair? This can be bad for both your health and all-inclusive comfort, and will entirely ruin your day job. Therefore ergonomics is important to support your back, neck, shoulders, knees, feet as well as wrists, so as to maintain the "S" shape of your backbone. Switch to ergonomics, switch to bluebell.
Do You Know?
Bad postures can lead to musculoskeletal pain and a higher risk of spinal injuries. When it comes to installing good sitting; ergonomics plays an important role. You tend to be more productive when you are using an ergonomic office chair because it ropes your back, neck, shoulders, knees, feet as well as wrists, so as to uphold the "S" shape of your backbone. Therefore, for a relaxing, quiet, and happy working space, sway to ergonomics.
Do You Know?
Bluebell Posture's perfect ergonomic chairs are designed to improve productivity and increase efficiency at the workplace. The chairs are the perfect support for your back, neck, shoulders, wrists and knees; while working for hours on a laptop, or a desktop. It can be tiresome to work continuously for 8 to 12 hours daily on a traditionally designed chair. Therefore a comfortable ergonomic chair is a must to feel relaxed, comfortable and happy at work. If human engineering and ergonomics is not considered at the workspace then it is surely to affect badly the human body structure. When painful at work, it's difficult to focus on the work and instead of increased productivity and efficiency you will end up troubled by the discomfort. A proper ergonomic chair from Bluebell will always maintain a natural "S" shape of your backbone and will thus aid in avoiding injury or strain to the muscles, backbone and subsequently the body. Switch to ergonomics, switch to bluebell.